Prefer a paper copy of this newsletter? Click Here
TOWN OF PONCE INLET NEWSLETTER
SPRING 2021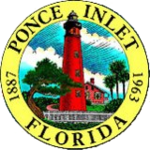 TOWN OF PONCE INLET
From the Town Manager, Jeaneen Witt,…
Happy Spring Ponce Inlet! Spring is a time of renewed hope as we see and feel the ways in which nature initiates a fresh beginning. For many people, the past 12 months have had the characteristics of the longest, hardest winter of our lives. Covid-19 changed our lives in ways that we never anticipated but now, in this beautiful spring, we can sense something that is resembling normal again. As Spring invites you outside, you will see that during this pandemic we completed some long-planned projects for your enjoyment. Notice the upgrades at the Davies Lighthouse Park to include the pirate ship playground on artificial turf, bench swings, an 8 ft sidewalk, and lighting for your evening enjoyment; the Town's only athletic park reopened only a few weeks before the pandemic, Pollard Park, where we have a full basketball court, 4 pickleball courts, 1 tennis court, a racquetball/warm-up court, and 2 playgrounds; and both of these parks have inviting pavilions for your use. The playground in Ponce Preserve is currently closed for repairs but we will reopen it with improvements as soon as possible. We've just replaced the handrail on the 1,796 foot boardwalk (1/3rd mile) at Ponce Preserve and also made a few amenity upgrades at Ponce's Happy Tails Dog Park. We have reinforced/stabilized the seawall at Elbers' Sunset Park. So, once you are done raking leaves and planting perennials, know that there are so many nice parks that we have designed for your enjoyment of the outdoors in Ponce Inlet and Spring is the absolute perfect time for it! Wishing you a very Happy Spring but do remember, Covid-19 is still among us, so please continue to mask up, back-up, and wash-up. Information about Covid-19 testing and vaccines can be found at www.volusia.org or on the Town's website www.ponce-inlet.org and the Town's Facebook page.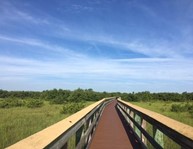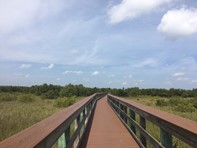 Resignation of Long-Term Council Member and Town Volunteer, Mary Hoss
Councilmember Mary Hoss resigned from her position on the Town Council on March 8th due to health reasons. Councilmember Hoss stated that she had enjoyed her time on Council and serving the residents of the Town and will miss it dearly. Mary Hoss was elected to the Town Council with her first term beginning in November 2011 and appointed to serve as Vice-Mayor from November 2012 – November 2020. Prior to serving on the Town Council, she served as a volunteer on the Town's boards for 18 years: first on the Board of Adjustments and then on the Planning Board, ultimately being selected by her peers on each board to serve as their Chairperson. Mary Hoss has volunteered her time and talents to Ponce Inlet since she moved here from Pittsburgh, with her late husband William, in 1994. She is a long-standing member of the Ponce Inlet Garden Club and the Ponce Inlet Women's Club, serving on the scholarship committees for many years on both. Education has always been a value of hers and she has been proud to award many women with scholarships to assist them in the furtherance of their educations from both of these organizations over the years. Mary Hoss was selected as Ponce Inlet's Citizen of the Year in 2016 and received the Lifetime Achievement Award in 2019 for all of her volunteer efforts in our community over these many years. We are saddened by the health issues that she has been facing over the past months and wish her the very best as she takes a step back from her civic work and enjoys more time with her three sons, her daughter, her grandchildren, and great-grandchildren, all of which we know she is very proud of. Pursuant to the Town's Charter requirements, the Town Council will appoint a replacement to serve on the Council until an elected member takes office in November 2021.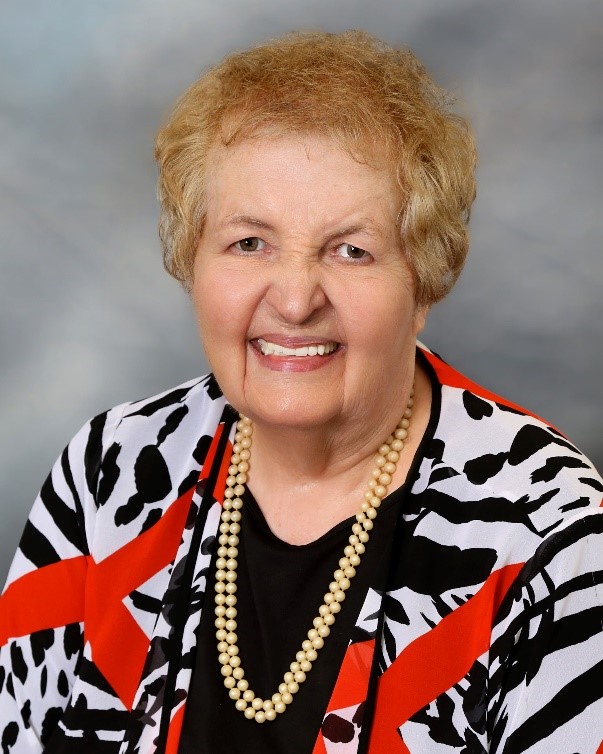 Town Regular Election – 2021
Ponce Inlet's election is scheduled to be held on Tuesday, August 17th. Three seats will be up for election on the Town Council this year. Seat 1/Mayor, Seat 3, and Seat 5 will be open for two-year terms. Qualified candidates must be a resident of the Town for at least twelve (12) months and a registered voter in Volusia County for six (6) months prior to qualifying period. Qualifying period will begin on Monday, June 1st and will end on Friday, June 11th at noon. If you are interested in serving your Town in this manner, please contact Deputy Town Clerk Kim Cherbano at 386-236-2150, kcherbano@ponce-inlet.org, or stop by Town Hall for more information.
Virtual Events
Since January, some of the virtual events hosted by the Cultural Services Department were educational programs related to nature and wildlife within our Town parks. Most programs included fun facts about plant and animal species and what they provide to our shared ecosystem. These topics included lichen, gopher tortoises, bunnies, and the invasive Brazilian Pepper. Additionally, a 6-part program series on Leave No Trace was virtually provided. This is a concept of 7 principles that originated from Native American tribes of best stewardship practices on the land that was developed into a hands-on educational program by the US Forest Service in the mid-1980s for minimum impact on outdoor recreation. Through the 16 virtual events provided over Facebook since January by the Cultural Services Department, just over 300 participants engaged in these programs provided. Engagement was based on reactions to videos, such as commenting or "liking" the posted video, similar to an in-person engagement.
In-Person Events
Our Children's Easter Drive-Thru Celebration this year was lots of fun for participants as well as the staff, town council members, and local clubs that volunteered their time to pass out Easter eggs. The Cultural Services Department appreciates the patience of residents during the unprecedented and unpredictable nature of the pandemic as it relates to thoroughly planning safe programs. Staff is thrilled to begin planning for a return to in-person events in the coming year. Many ECHO Ranger events are planned to start in Fall, including Shell-a-bration and Grandparents Day. But until then, please continue to visit the Town of Ponce Inlet website and Facebook page for details on upcoming events.
Ponce Inlet Historical Museum
The Cultural Services Department continues to assess the best methods of providing educational and cultural programs during a pandemic. This past Winter, many captioned, educational programs were provided via the Town of Ponce Inlet's Facebook page, which gave a more efficient access to participants. Since January, some of the virtual events hosted by the Ponce Inlet Historical Museum were cultural programs in our Town parks, which included:
Mindful Meditation– Participants were guided through a short meditation within Town Parks. This was a well-received program that focused using mindfulness techniques to help an individual train their attention and awareness towards mental clarity to reduce stress.
Tail Feathers to Talons– Hosted over Zoom by Ormond Environmental Center and the Halifax River Audubon Society, participants learned how birds of prey are a vital aspect of the ecosystem.
Timucua Tribe– Participants learned about the history of the Timucua tribe virtually within Timucuan Oaks Garden, of which the park is named after.
Green Mound- Participants learned some history behind the Native American shell midden, Green Mound, located within Ponce Preserve.
Septic-to-Sewer Project for Ponce de Leon Circle
Since February 2018, the Town has been pursuing grant assistance for a septic-to-sewer project on Ponce de Leon Circle. We are very pleased to announce that after a great deal of perseverance by our staff, the Town has received a grant award from the St Johns River Water Management District for more than 75% for this project. The remaining amount of less than 25% will appropriately divided between the Town and the City of Port Orange via the cost-share agreement. The most competitive bid for this project was received from SanPik, Inc., approximately $1,040,000; of this amount, the Town is estimated to be paying less than $85,000 toward this project which will provide a state-of-the-art gravity sewer system, stormwater improvements, a new road, and minor water system work. In accordance with our Town Goals, Sewer Master Plan, and Town Mission Statement, our staff worked to achieve this important project at a minimal cost to our community and we know they will continue to do so for future sewer expansion projects in our community.
Coastal Resiliency Planning
As a community surrounded by water on three sides, Ponce Inlet took a leadership role in the region and invited the American Flood Coalition and the East Central Florida Regional Planning Council (ECFRPC) to make a presentation here in March 2020. This led our Town Council to initiate planning efforts to improve the Town's resiliency and capacity to adapt to changes in sea level. On February 25th, 2021 the Town in conjunction with the ECFRPC, hosted a workshop at the Community Center and via Zoom which brought concerned and interested citizens of Ponce Inlet together to review and discuss the projected impacts of coastal flooding and initial ideas for resiliency. Based on input from the workshop, a survey will be sent out to Ponce Inlet residents this Spring to further gauge the public's priorities and preferences for resilience strategies. A second workshop will be scheduled this Summer to present the survey results, identified strategies, and proposed policies for consideration. This effort will be used to guide future decision-making for development, infrastructure projects, and adaptation to projected sea level rise.
Flood Protection Information & FIRM Maps
The Flood Insurance Rate Maps (FIRM) for Ponce Inlet are located at Town Hall and can be reviewed during the hours of 8:00 AM to 4:30 PM. All questions should be directed to Robert Baker, Chief Building Official/Certified Floodplain Manager. Mr. Baker is also available for site visits at your property to answer any questions or concerns you may have. Mr. Baker's contact information is: hbaker@ponce-inlet.org or 386-236-2185. For more information visit: http://ponce-inlet.org/ then click Flood Management Information.
New 2020 FL Building Code
The Town has officially adopted the new Florida Building Code, 7th Edition (2020), the BOAF's Model Administrative Code (2020), and the NFPA 70 National Electrical Code (NEC). The new FL Building Code became effective January 1, 2021. All permit applications submitted after January 1, 2021 are required to meet and reference the new 2020 Code.
Over-the-Counter Permits (OTC)
The Building Division implemented its Over-the-Counter permit program a few years ago. Based on customer feedback, this has been a huge success and has allowed for expediated permits for A/C change-outs and certain electrical and plumbing permits that do not require plan review. Below is a brief overview of the process. Please note that Over-the-Counter permits can only be used for: Mechanical, electrical, and plumbing permits that DO NOT require plan review by the Chief Building Official. This includes A/C change-outs, water heaters, and other simple plumbing work that is placed in the SAME exact location. Properties NOT located in a special flood hazard area, based on FIRM flood zone maps. This excludes most properties in Town located west of S. Peninsula Drive. Staff will verify this for you at permit check-in or ahead of time upon request. You can also verify if the property is in special flood hazard area prior to applying by entering the property address at: https://www.volusia.org/services/public-protection/emergency-management/types-of-disasters/floods/flood-maps.stml.
Below are the steps to get an Over-the-Counter permit:
1. Fill out the current building permit application form (referencing the 2020 FL Building Code) AND the OTC permit checklist. Submit the completed applications to the Town by fax, email or in person. Completed applications that qualify (per 1 and 2 above) are processed upon submittal and usually take approximately 15-20 minutes to enter, process, and print for issuance.
2. Once the permit has been processed and is ready to issue, Staff will e-mail the license holder (if already not in our office), who has the option to bring in a check or pay over the phone with a credit card.
3. Pick up and pay for the permit and post it at the job site BEFORE any work begins.

Emergency Permitting
The Town allows work to begin without a permit in emergency situations only, and then only under certain conditions. Even in such cases, a permit is STILL required. The emergency does not relieve the contractor of the responsibility to obtain a permit and to request inspections as required by the FL Building Code. If the emergency occurs during the work week, the contractor must contact the Building Official to request permission for an early start BEFORE any work begins. Staff will then inform Code Enforcement so that everyone is on the same page. If emergency work is needed over the weekend or holiday and Town offices are closed, the contractor must apply for the permit within 1 business day, as required by the FL Building Administrative Code.
Fire Hydrant Care
Each spring, Ponce Inlet Fire Rescue prepares for another year protecting the Town from a variety of hazards. We recently competed our annual fire hydrant maintenance, which involves flow testing, hydrant servicing and painting. As part of this year's program, three old non-serviceable hydrants were replaced with brand new ones, assuring that the needed fire flow is always available. If you are one of the lucky residents that have a fire hydrant on your property, please make sure to keep all landscaping and yard accessories at least 10 feet from the hydrant. This assures rapid access and minimizes any disruption to your yard when we flow test the hydrant. Also, if you have questions or concerns about the condition of any fire hydrants in town, please don't hesitate to call the fire department at 386-322-6720.
Pool Safety
As the weather warms up, more residents will be using their swimming pools. Make sure that your pool safety devices, including fences, floating motion alarms, and Personal Flotation Devices are functional as you invite your family and friends over to enjoy the water. Be extra cautious with small children in the house. We hear the tragic stories of toddlers who tumbled into a backyard pool and drown, unnoticed by nearby adults. Please be aware of this danger, take appropriate safety measures and make sure that family members and babysitters are trained in First Aid and CPR.
Spotlight on two new members of the Public Works Department…
The Ponce Inlet Public Works Department welcomed two new members to our team, Amber Spears and Robert "Hank" Baker. Public Works Manager Jeff Miller states that both of these individuals are high energy, highly motivated, and hard workers! Amber came to us from the City of South Daytona where she worked in the Building Department, and Hank came to us with a construction background building docks and seawalls. Amber, a married mother of two, has a son who is enlisting in the Navy in June, and has a 7-year-old daughter. Amber's interests are kayaking, woodworking, fixing things, and gardening. Hank's interests are car racing, wrestling, and fishing. We are very pleased to have both of them on our Public Works team and trust they will do a good job for all of you.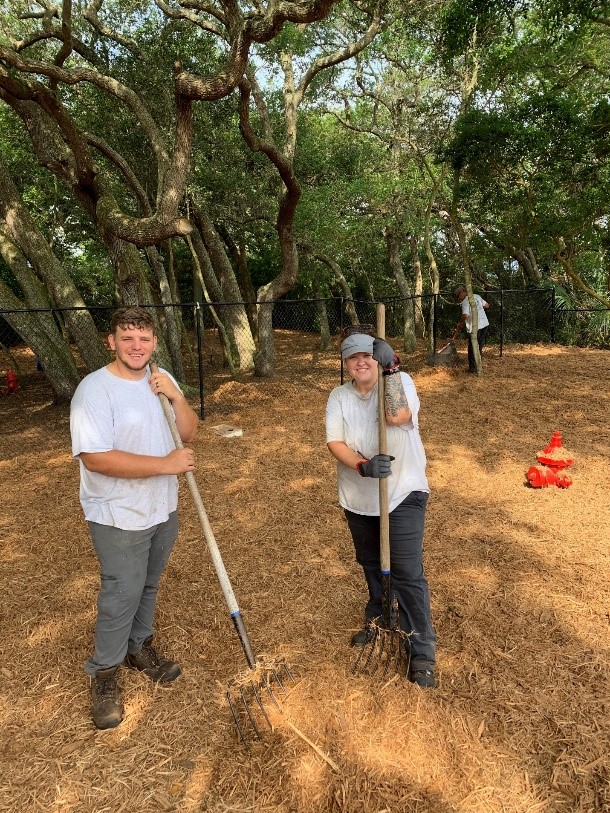 Town Holiday Closings
Town offices will be closed on Monday, May 31st, 2021 in observance of Memorial Day and on Monday, July 5th, 2021 in observance of Independence Day.
Town Businesses on Website
Please check out our webpage for a directory of Ponce Inlet businesses. You'll be surprised by the variety of services so close at hand. This is a compilation of those within the Town limits who have obtained the required business tax receipt (formerly known as occupational license). This business directory can be found as a link to the Town's home page – www.ponce-inlet.org.
Town Council & Board Meetings
The Town Council meets the third Thursday of every month, 6:00 p.m. at the Council Chambers, 4300 S. Atlantic Avenue. Special meetings are scheduled and noticed as needed. The agendas are for all Town Council and Town Boards are posted at Town Hall, on the Town's Facebook page and on the Town's website.
Keep up with what's happening in your Town
Please visit our website www.ponce-inlet.org for all public meeting notices and minutes, general information, and status of current or upcoming projects. Further, be sure to read the back of your utility bills for special announcements and important information. If you haven't already done so, please sign up for our e-mail list through the website. If you have a Facebook account, please be sure to "like" us so you'll receive information regularly on the Facebook newsfeed.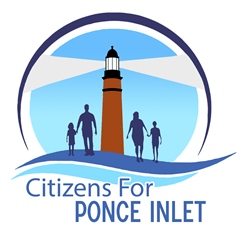 CITIZENS FOR PONCE INLET (C4Pi)
By Don Hampton
C4Pi President
Due to the Corona 19 virus some of the activities the Citizens for Ponce Inlet normally conducts over the past year have been cancelled. This has been a hard decision for the organization but we feel it's been a sound one.
As it appears that larger gatherings are now being allowed we look forward to hosting these activities as usual again. We will consult with and follow the advice of the Town as to the size and methods of safely conducting these events at the Community Center.
Two of the Citizens for Ponce Inlet events that have been most affected are the Citizen of the Year Award Ceremony and the Candidate's Forum. At this time we plan to hold both of these events as usual.
Qualifying for this fall's Town Council election ends on June 11th. All qualified candidates will be invited to submit their resumes for publication in the Summer issue of the newsletter as well as to the Candidates Forum to be held sometime in mid to late July.
Any questions may be submitted to : info@c4pi.org We will send an email to our membership once the dates of these events have been finalized. If you are not a member yet, please Click Here to Join C4Pi.
---
Almost 100 neighbors enjoyed the Coffee, Cake & Civics 101 which was held at the Ponce Inlet Community Center on April 17th.
The event was sponsored by the Volusia League of Cities and hosted by Vice Mayor Lois Paritsky, who did a presentation on how a bill becomes a law and how our citizens can get involved in the advocacy process. Due to the significant number of pre-registrations, Tony Ortiz, President of the Florida League of Cities participated and spoke to the attendees as well. Mayor Don Burnette of Port Orange, the President of the Volusia League of Cities spoke as well during the event.
If you were not able to attend, you can watch a video of the presentation here:
---
Davies Lighthouse Park & Playground Video:
The C4Pi is very pleased to feature our first video content as part of our quarterly newsletter. Thanks to Lauren Albinson, who has joined the C4Pi Team as our video editor and submitted this terrific video featuring the Newly Renovated Davies Lighthouse Park and Playground.
The following includes information taken from the Ponce Inlet Lighthouse & Museum's website and from the Town of Ponce Inlet's website:
The Kay & Ayres Lighthouse Park is a beautiful and unique park located in the shadow of the historic Ponce Inlet lighthouse just a stone's throw from the Atlantic Ocean, the Halifax River and the inlet that connects the two. The park is named in honor of Ponce Inlet's first mayor, Ayres Davis, the first mayor of Ponce Inlet, and his wife, Kay. The Davies were long-time residents of the area who advocated for the incorporation of the Town of Ponce Inlet in 1963. Mr. Davies was also a founding member of the Ponce de Leon Lighthouse Preservation Association that literally saved the adjacent historic lighthouse, the tallest in the State of Florida, from years of decay and eventual destruction after its abandonment by the U.S. Coast Guard until its acquisition by the Town of Ponce Inlet from the Federal Government in 1972. The association, after completely restoring and preserving the lighthouse, its adjacent buildings and grounds, currently continues to manage it, and was responsible for the restoration of its light as a functioning beacon for seafarers.
The park occupies three acres of land that was originally part of the lighthouse reservation from the time of the tower's construction in 1887 where sections of the park had served as the staging area for much of the supplies and equipment used to construct the light station. These supplies came by boat and were then transported from the inlet on a tramway via a mule-drawn cart. The tramway's footprint survives to this day in the form of a concrete path that extends south through the park from the base of the lighthouse tower. The park, which was recently improved, features a playground and picnic area, a covered gazebo/pavilion (which the public can rent for group and family use), and public restrooms. The park also contains walking paths, benches, water fountains, and a beautifully designed Veterans Memorial where annual Memorial Day and Veterans Day services are conducted. A public boat ramp is located opposite the park with access to the inlet and trailer parking is found adjacent to the park. Volusia County's Marine Science Center is just around the corner on Lighthouse Drive.
PONCE INLET COMMUNITY CENTER
Keep In Touch. Stay current with all events that happen at the Community Center. We advertise on the Town Website, Town Facebook, the Sign in front the Center and C4PI Website. The office is open Monday – Friday 9:00am – 12:00 noon.
Exercise Classes:
Keep in shape with exercise classes at the Community Center. The Aerobic/Toning Class meets Monday/Thursday 9am with Kathleen. On Tuesday/Thursday at 10:30am we have JoJo's Fitness and Fun class with Joanne. Please contact the office with any questions.
Flea Market
PONCE INLET RESIDENTS ARE SPECTACULAR! THANK YOU for the multitude of donations for our March 5th & 6th Flea Market. There were so many great bargains to be had. If you missed this one, make sure to attend our next one. An extra Special Thank YOU from Becky and me for everyone who donated their time to make the Flea Market such a successful event. Go Ponce Inlet! We are now accepting donations for our next Flea Market on October 1st & 2nd (Mark your Calendar). Please drop them off into the large plastic bin to the left of the Community Center. Keep in mind that items need to be free from stains, tears, missing or broken pieces. We cannot accept chemicals, printers, monitors or computers. PLEASE HOLD ON TO LARGE ITEMS UNTIL September 30th at 1:00 or call Teri at 224-578-0920. Becky Erlenbach and I would like to THANK YOU in advance for all the wonderful donations. Your support on this function and others helps keep our community center running. The PICCI Board sincerely appreciates your support.
T – Shirt Fundraiser
Our Positively Ponce T-Shirt is a must to wear around town or give as a gift. We NOW have them in children sizes for purchase. Stop by the community center to buy your T-Shirt. The cost is $18.
Soup and Salad Night
In February, we hosted our Soup and Salad Night. A "Scrumptious" meal with 10 different soups to taste. If you didn't make it, mark your calendar for next year. It is a meal you don't want to miss!
"GAME DAY"
Invite some friends and set a date for Wednesday, April 24, 1:00pm – 4:00pm. Meet at the community center for Game Day. On the 3rd Wednesday of each month 1:00pm – 4:00pm, anyone can bring a game, invite some friends or come alone to join others. Why not learn how to play Mah Jong. Challenge some friends to a game of poker. Meet someone for a game of chess. See you there! (Games are not supplied)
Rentals
The Community Center is available to rent for weddings, family reunions, birthday parties, anniversary parties and more! Our eight-hour rental comes with many amenities: 10-person dining tables, buffet tables with floor length covers, table cloths and chairs. There is also a dance floor, stage, ice machines, two refrigerators, commercial size kitchen and portable bar. Contact Maureen Day at 386-212-3700 for information.
GARDEN CLUB
By Jane Magrady
The good news is that the club is re-awakening after not convening due to Covid. Some members are participating in Ponce Preserves the Planet and the town's Easter event. The club is still maintaining plantings around town. The Garden Club crafters are meeting at PICCI on Mondays from 10-12 in the Board Room. Anyone is invited to join them.
A membership survey has been distributed online and the first membership meeting for 2021 is scheduled for Wednesday, September 22.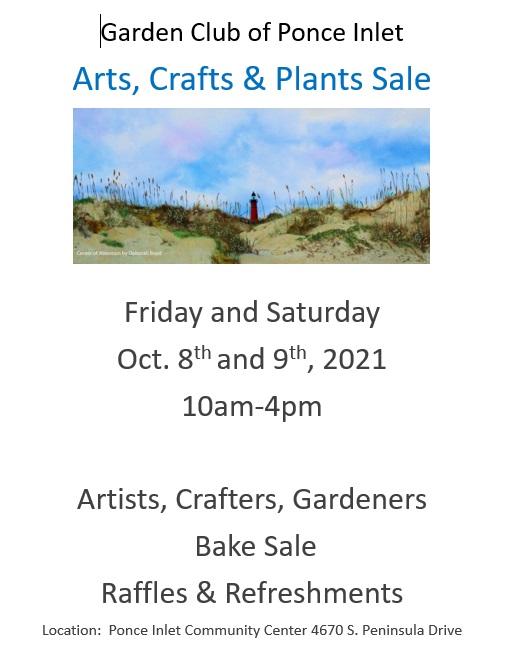 Planning is underway for the Annual Arts, Crafts and Plants Show on October 8-9 from 10:00 a.m. to 4:00 p.m. Again this year, vendors will be located at the PICCI, both indoors and outdoors. In an effort to maintain social distancing, the number of indoor spaces will be limited.
Click Here For An Application To Exhibit and obtain more specific information about this event.
Spring Gardening Tips – from UF/IFAS
Keep in mind our words to remember "the seeds we sow today become the flowers of tomorrow."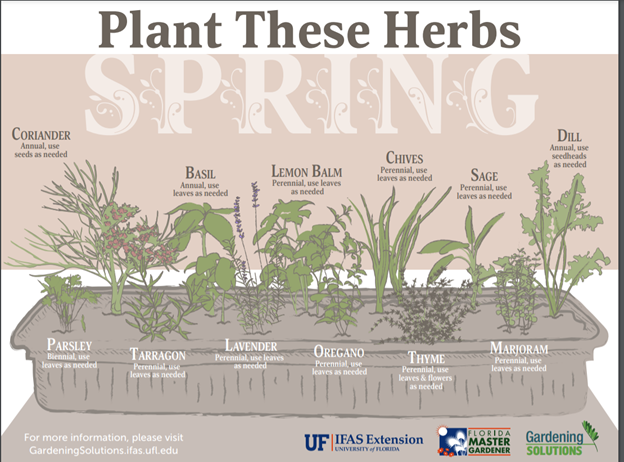 WOMEN'S CLUB
Ponce Inlet Women's Club Spring News

Special Event: The Holiday Ball was a huge success for the Halifax River Yacht Club (HRYC) with attendance of 130 including the Ponce Inlet Women's Club (PIWC) celebrating with 36 members and guests. HRYC Membership Chair Freddie Friend thanked PIWC for their efforts and participation to help make the annual event a success, with all dancing the night away to the sounds of the fabulous entertainment, Then2Now. The annual event was chaired by Dr. Kay Brawley and President Brenda Snow. The Luxury Mexico Destination Vacation auction/raffle netted $2100 for the PIWC Scholarship fund.
Rhonda Glasnak and Walt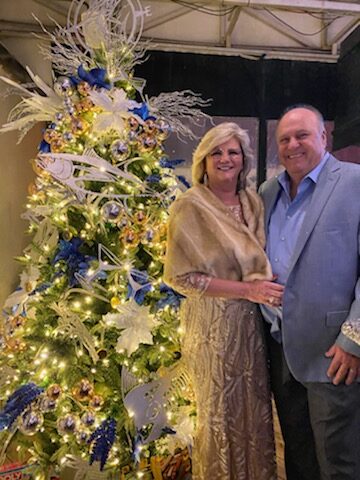 Meetings: Program Chair Kay Brawley and Committee have designed all programs throughout the year on Personal Well-Being: Mind, Body and Spirit, tapping the talents of membership. The next meeting will be on Wed., March 14 at the North Turn Restaurant, beginning at 4 pm with a social. The program Living Fully: Is there and ART to It? will center around positive spirit with Presenter Mary Teasley and a panel of two members addressing personal perspectives.
The May 12 meeting focuses on the body and movement and is entitled Dance, Dance, Dance. instructor Helena Montgomery will get the membership up on their feet in celebration of a good, challenging year.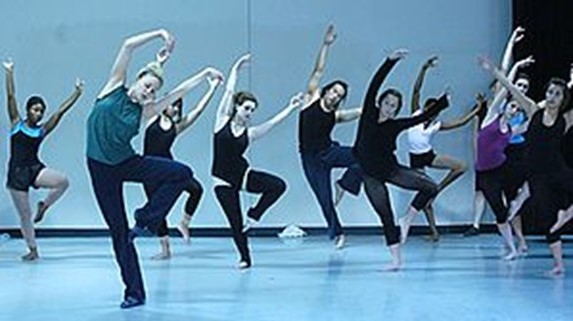 Scholarships: Due to the necessary changes in the scholarship program this year with COVID and lockdowns preventing fundraising events, Chair Kay Brawley and Committee, instituted a new Sponsorships by Member and Businesses programs in the amounts of $1000-2000 during 2020. Nine members graciously provided $9000 to support four scholarships for programs of study and training at Daytona State College; awardees will be recognized at the May PIWC meeting. Recognition will be provided to the PIWC member donors in the Daytona State College President's Circle for annual contributions of $1000 or more.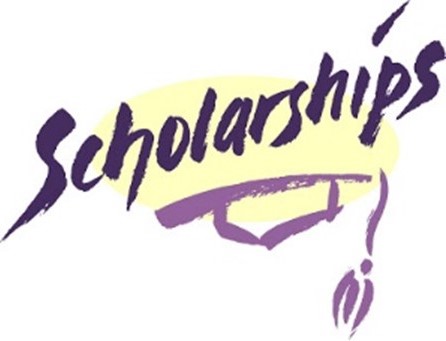 For 2021, the new PIWC program will continue with gifts of up to $999 listed in the Daytona State College Circle of Excellence ($500 +), Circle of Honor ($100-$499) and Circle of Friends ($50-$99); PIWC members may collaborate on amounts to meet the criteria.
PIWC Community Scholarship: In addition to the PIWC Scholarship program for Daytona State College, it also has a program for applicants at other schools. PIWC will be awarding a scholarship for a highly deserving citizen of the community at its May meeting.
PIWC has expanded its program of activities during these challenging economic times, and thus has become known for its generous support of its community. In days of uncertainty like we have faced in 2020 and now, the dependable, generous support of our members and friends is critical and much appreciated by the recipients. Likewise, PIWC is fortunate to have members and friends who understand and appreciate the value of education and continuous retraining over the lifespan.
PONCE ANIMAL WELFARE (PAW)
Please check back next month for the next update from PAW.
LIONS
Please check back next month for the next update from the Lions.
PONCE INLET LIGHTHOUSE ASSOCIATION
Please check back next month for the next update from the PILA.
VETERANS CLUB OF PONCE INLET
We would like to extend an invitation for all to join us at the Ponce Inlet Veterans Memorial in the Davies Lighthouse Park on Monday, May 31, 2021 between 9:00 AM and 4:00 PM when we celebrate Memorial Day and honor those men and women who gave all while serving our country. There will be no formal ceremony because of the COVID-19 pandemic. Instead, at the Memorial, we will display our flags and wreaths and our members will be there to meet and thank those who come to pay their respects.
It is hard to believe, as time passes so quickly, but this is the 10th anniversary of our Memorial's dedication in 2011. To honor this, we will be selling tee shirts with a 10th anniversary logo. The monies made will be used to maintain the Memorial.
The Association would like to invite all local veterans and those who are still serving on active duty to join us. The Association is a non-profit 501c(19) organization and our mission is to maintain our Memorial and promote veterans activities in our community. Dues are $20 per year and meetings are held at the Ponce Inlet Community Center at 7:00 PM on the second Tuesday each month, except during the summer. Contact Jim Hinson at 386-760-5448 for additional information or to obtain a membership form.
MARINE SCIENCE CENTER
No content has been provided for this section. Please check back.
If you are the individual responsible for providing the content for this section, please email Don Hampton. Alternatively, you can upload your content directly via our portal. Click Here.
PONCE CHURCH
Ponce Church meets Sundays 10:00AM at the PI Community Center: 4670 S. Peninsula next to the fire station. Everyone is Welcome at Ponce Church.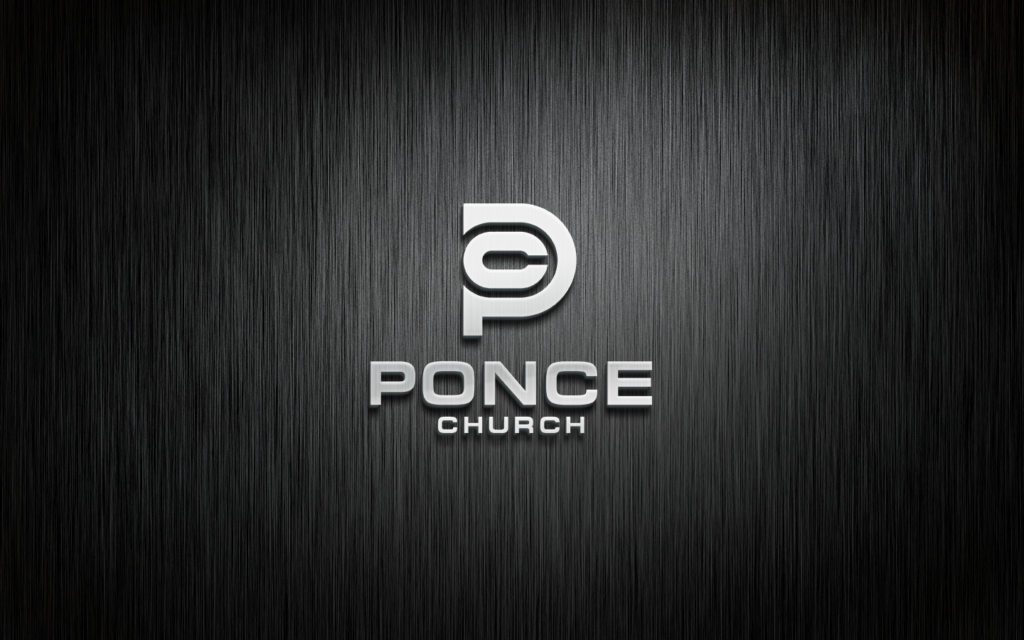 ESTABLISHED 2003
Seventeen years ago, the Lord led our family to the beautiful town of Ponce Inlet. One day while my husband was walking on the beach the Lord spoke to him and said, "There is no church in this town- I want you to start one." In January of 2003 the Tidwell Family launched the First church in the History of Ponce Inlet. Over the years, we have ministered to hundreds of residents and visitors. We are a Christian non-denominational church that is active in obeying the words of Jesus by caring for the orphans, widows, and the poor. At Ponce Church, we teach the importance of obeying the words of Jesus through loving our neighbor. Matthew 25:31-46.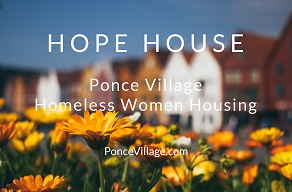 HOPE HOUSE of PONCE VILLAGE HOMELESS WOMEN HOUSING:
Since 2014 we have served over 30,000 meals to the homeless in Daytona Beach. There are over 200 Homeless Women in the Daytona Beach area. There is an estimated 565,000 Homeless in the USA on any given night–40% are Women. Ponce Church has recently raised funding to provide a Home, HOPE HOUSE, for 1 Full Year for 3 Adult homeless women. We will also provide Love, Care, Mentorship and a Life of Renewed Hope for these women, along with a compassionate live-in house mother. We are currently seeking the Lord for a Landlord/Investor with a Heart of Compassion for these women. For more information, contact Pastor Nina Tidwell, Director of Ponce Village Homeless Women Housing at 386-308-1533, or visit PonceVillage.com
LEGACY HOUSING PROJECT:
At Legacy House, we prevent Homelessness and trafficking by providing Safe Housing for girls aging out of the foster care system. The Legacy Housing Project also provides a safe support system which allows our youth to graduate high school, enroll in a local college and obtain employment. The Legacy Housing Project is also working to provide housing for boys aging out of the foster care system. Visit LegacyHousingProject.org.
Join Us Sundays 10AM at Ponce Church
4670 S. Peninsula in Ponce Inlet. 386-308-1533. Thank you.