Sherry Utter
2020 Lifetime Achievement Award Winner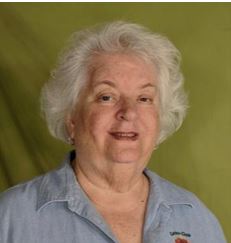 Sherry Utter has lived in Ponce Inlet for almost half a century and has spent most of those years volunteering in so many different ways. She is one of the original members of the Garden Club of Ponce Inlet which was founded in 1982 and has served as their President. She is responsible for starting the Garden Club's Scholarship Program awarding funds to Ponce Inlet High School Seniors as they graduate and begin their first year of college. Sherry has also been a member of the Ponce Inlet Women's Club for more than 30 years, always willing to work and lend a hand at social and fundraising events. Volunteering to work with children has always a s been big part of her life in Ponce Inlet; working the Christmas Parade for 5 years, Girl Scout Leader for the Ponce Inlet troop and for over 40 years she has worked tirelessly with the town's Children's Activity group bringing joy, treats, games and holiday fun to local children at Easter, Halloween and Christmas.
In addition, Sherry and her family have provided and managed a Pumpkin Patch at the town's Halloween party for more than 15 years, setting up their own games and fun activities for small children. Sherry said "being named the 2019 Grand Marshall of the Christmas Parade (along with her husband, Jim) was a true honor she will never forget! These are only a few of the organizations and activities Sherry has contributed her many talents to and we applaud her for her sacrifices for the benefit of the citizens of our town!