SALE OF PACETTA PARCELS TO BLUE WATER REALTY ADVISORS, INC.
Date: February 14th, 2021
By: Joe Perrone
In the Saturday, February 6th, real estate section of the News-Journal listing deed transfers, it was reported that the following three Pacetta parcels were sold to Blue Water Realty Advisors, Inc., which it is believed (from information that came forward during the prior Ponce-Inlet/Pacetta lawsuit but which cannot be verified) may be a subsidiary company of the original mortgage lender: Parcel 6; lots 4-6 (Pacetta LLC), Parcel 3; lots 6, 8, & 9 (Mar Tim Inc), and Parcel 1; lot 1 1/2 (Down the Hatch Inc). The aggregate purchase price of the three sales totaled $8,266,299.
The Town's Planning and Development Department checked the Volusia Property Appraiser's website and found that the only parcel still owned by Pacetta LLC is a single-family residential property located at 4906 Sailfish Drive, just west of Rains Drive. Blue Water Realty Advisors now owns the remainder, 8 tax parcels in total, located east and west of Front Street.
Sale Of Inlet Harbor Marina & Restaurant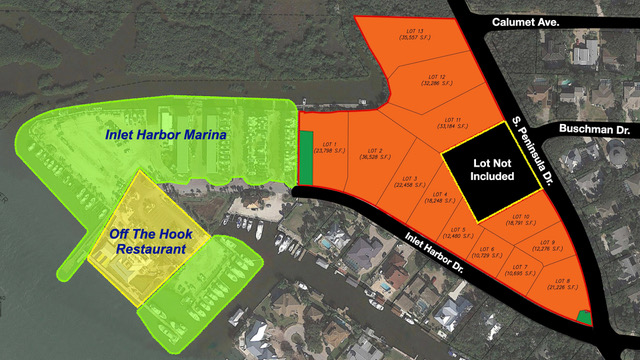 Date: November 17th, 2020
By: Joe Perrone
It was reported in the deed recordings of the News-Journal on October 31st that a deed transfer occurred from Inlet Harbor, Inc. to Southern Marinas Inlet Harbor LLC at a reported sale price of $7,250,000.
A conversation with Aref Joulani and Mike Disher of the Town's Planning Department revealed that the sale included only the commercial areas of the Inlet Harbor property, which contain the marina, the restaurant (which is currently leased to Off the Hook Grill), the boat stack facilities, and the 50 foot wetland buffer between the boat stack area and the residential lots. The 10 vacant residential lots recently developed along Inlet Harbor Road and on Peninsula Boulevard, plus three additional lots further north on Peninsula (opposite Calumet Avenue), remain in the possession of Inlet Harbor, Inc. which currently has them listed for sale. Inlet Harbor, Inc. also retains ownership and use of the canal behind lots 1 and 2, (fronting on Inlet Harbor Road), and which extends up to and behind the three northern lots on Peninsula. They are currently in discussion with the Planning Department for a permit to dredge the canal.
A Google search indicated that the Inlet Harbor marina sale took place on September 29th and that the principal for the buyer is Southern Marinas Holdings, LLC, a partnership between a New York based private investment firm and Southern Marinas. The acquisition brings their portfolio to a total of twelve properties. Their website, "southernmarinas.com", indicates that they are a premier owner/operator of properties located in the southeastern U.S., and that their philosophy is to "extend a warm welcome and gracious Southern Hospitality across all touchpoints of the customer experience." They also own other marinas in Florida located in Stuart, Bradenton, Fort Meyers Beach, North Palm Beach, Aventura, Pompano Beach, and Cape Haze.
It should be noted that Inlet Harbor, Inc. has agreed to deed a small portion of the corner of their property at the intersection of Inlet Harbor Road and Peninsula Boulevard to the town for use as a pocket park.