Vision Statement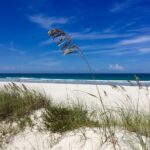 Ponce Inlet is and will be a residential haven for those persons who value nature, quiet, privacy. It offers a small town lifestyle where people feel safe and should have easy access to small scale businesses serving their needs. The community will continue to be particularly distinguished by its natural beauty and its access to nature. It has ensured that its built environment is of high quality and appropriate scale while protecting historic features. The community will be recognized for the professionalism and integrity of its government and the high level of citizen involvement and participation in the life of the community.

Visit Our Town's Website: https://www.ponce-inlet.org/
Local Government
Ponce Inlet is organized with a council-manager form of government:
Voters elect a Town Council, which consists of five members who serve two-year staggered terms. All five seats including the Mayor are town-wide; there are no districted seats. The Town Council establishes ordinances and policies for the town. It also reviews and approves the town budget annually. The Council appoints a Town Manager, who implements policy as voted on by the council. The town manager is the senior administrative official of the town and is responsible for all aspects of administrative oversight.

Read the Welcome to the Town of Ponce Inlet Information Booklet 2022 and the Town of Ponce Inlet Contact List.
Photo
Biography
Jeaneen Witt, Town Manager JWitt@ponce-inlet.org

Jeaneen Witt, has worked for the Town of Ponce Inlet since 2005, serving as Assistant Town Manager from 2005-2010 and Town Manager from 2010-present. Jeaneen is a multi-generational Daytona Beach native. She served four years in the United States Air Force after graduating from Spruce Creek High School. Jeaneen earned a Bachelor of Science degree from the University of Central Florida with a major in Public Administration in 1996 and a Graduate Certificate in Public Administration in 2017.

In addition to her work for the Town, she is the volunteer treasurer for St Peter the Fisherman Episcopal Church in New Smyrna Beach, where she and her husband Chip are members. Jeaneen is proud of her two adult children, Joshua and Elizabeth (twins), who have embarked on their own careers after graduating from college. Jeaneen, Chip, and their dogs Adella (German Shepard) and Finley (American Bulldog mix) live in Ponce Inlet.
Lois Paritsky, Mayor LParitsky@ponce-inlet.org

Lois Paritsky was sworn in as Ponce Inlet's 17th Mayor on November 18th, 2021. She served as Vice Mayor from 2020-21 and on Town Council Since 2015. She also served as the Vice Chair of the Planning Board from 2013-15. In addition to her duties as Mayor, she serves as the 1st Vice President and Advocacy Chair of the Volusia League of Cities. A 3-time winner of the Florida League of Cities (FLOC) Home Rule Hero Award, she also serves on the FLOC Advocacy and Utilities, Natural Resources & Public Works Policy Committees. Lois is a member of the Advisory Board of the American Flood Coalition, a national organization focused on finding solutions to mitigate the damage caused by flooding and sea level rise.

A licensed New Jersey attorney, Lois is admitted to practice before the United States Supreme Court. As an active animal advocate, she is a member of the Animal Legal Defense Fund and the Animal Law Section of the Florida Bar Association working to advance the welfare of animals through protections within the legal system. Lois lives with her husband Howard and their beloved Bichon Frise, Lilly. Lois is passionate about preserving and protecting the small-town charm and character of our seaside community.

Gary Smith, Vice Mayor GSmith@ponce-inlet.org

I served as Mayor from 2011 to 2021 after serving the Town as a member of the Planning Commission and Planning Board. I have been a property owner since 1991 and a permanent resident since 2006.

My formal education includes a Professional Engineering Degree and a Masters Degree in Business Administration. I am a professional engineer, retired, licensed by the State of Florida. My 40 years of career experience include 24 in the private sector and 16 in County Government.

I served as a Lieutenant in the Army Combat Engineers and am a Viet Nam Veteran.
Elizabeth Caswell, Seat #2 ecaswell@ponce-inlet.org

Elizabeth Caswell was appointed to Town Council Seat 3, following the retirement of Mary Hoss. She purchased her Ponce Inlet home in 2018, and remains professionally active as an author and speaker in the financial services industry.

Her formal education includes an MBA in Finance and a BA in Communications.
Bill Milano, Seat #3 BMilano@ponce-inlet.org

Bill Milano has served on the Town Council since 2012. He moved to Ponce Inlet from Broward County in 2002 with his wife Patty of 52 years; retiring after 38 years as an Educator, 16 of which as a high school principal. He holds a Bachelor's degree in Mathematics Education and a Masters in Guidance &
Counseling, and an Educational Specialist Degree in Administration Leadership and Guidance and Counseling. He was honored as Florida Principal of the Year by the Florida Thespian Association, as United States Principal of the year by the North America Thespian Association, the Int'l Exchange club secretary/treasurer of the year, and also honored as the Alumnus of the year for Broward State College for community service. Bill's service record includes: 2 years as a Planning Board member; 16 years and counting as a homeowner's association board member & president; earned designation as United States Swim Official & was selected as the meet referee for the Florida High School Swimming Championship; and Bill is currently treasurer on the First Step Shelter for the Homeless Board. Bill & Patty enjoy frequent visits with their 2 children and 5 grandchildren.
Joseph Villanella Seat #4

Joe Villanella served as the Chairman of the Code Enforcement Board From 2012 to 2022.
Cliff Shepard, Town Attorney

Cliff Shepard is a University of Florida grad and practices local government law, complex commercial litigation, real estate development, insurance defense and construction law. He is Board Certified in City, County and Local Government Law.

He serves as City Attorney for Maitland, Town Attorney for Ponce Inlet and General Counsel for the Orange County Charter Review Commission and the Florida Redevelopment Association.

Cliff has been named to The Best Lawyers in America© and Orlando's Best Lawyers (2017-2020) and is also recognized as one of Florida's 'Legal Elite'© by Florida Trend Magazine and a Florida Super Lawyer©